Group Tours: "Adventure Voyages"
90-minute adventures for groups
"Adventure Voyages" are 90-minute group tours that are available for reservation by groups of any age. Content and presentation are tailored for different age groups. We can help you choose the program that's best for your group! Call 412-231-2712 for more information. Scroll down to view the program descriptions!

Group Tours are available at any time, based on availability. For registration information for groups, click here.
Saturday Family Sails: 60-minute Public Ticketed Programs
Individually ticketed trips are offered on various days throughout the year. Get onboard for adventure with friends and family and enjoy an educational and fun tour on the river! Click here for more information on Public Ticketed Programs.

---
Group Tour 90-minute ADVENTURE VOYAGES include:
It's Alive!
Sail into adventure looking for signs of life in the watery world that runs through our city. Search for microscopic plankton in a river water sample. Get up close and personal with our local waterfowl, be puzzled by strange native fish, and hunt for unbelievable creatures from our rivers!
Bridges of Pittsburgh
Cruise the three rivers learning what makes Pittsburgh the bridge capital of the world! Voyage into Pittsburgh's past when horse-drawn carriages clattered across wooden bridges and hear fascinating tales of fire and floods as you sail through our colorful bridge history. Try your hand at engineering, marvel at the ancient arch construction and build and test several types of bridges.
Traveling the Nautical Road
Enter the world of a riverboat pilot as we sail along the rivers learning about life on the water. Tour the pilot house, learn to use a river roadmap, and discover what makes Pittsburgh the largest inland port in the United States. Help the crew prepare the vessel to get underway, decipher secret messages in code, and make your name in signal flags.
Birdspotting Cruise
The rivers and islands of Pittsburgh are home to an astonishing variety of birds. From their perch at the top of the river valley food chain, birds can be excellent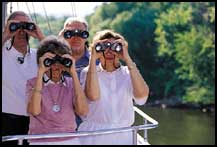 indicators of other forms of life in the rivers, especially fish. Use binoculars and learn to identify local birds by their behavior, coloration and body shape. Ducks, geese, and rock pigeons are frequently spotted. With a little bit of luck you might even see swallows, hawks, kingfishers, coromorants, great blue herons and more.
Click here for Registration Information.