College Student Internships
INTERNSHIP OPPORTUNITIES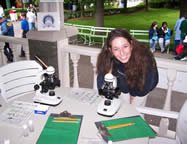 RiverQuest seeks student interns to assist in presenting and coordinating its education, outreach and public programs. This is a unique opportunity to become involved in an exciting and unique approach to science and math education for the area's children and gain some valuable work experience. Intern positions for the education program are available in the Fall (Sept-Nov), Spring (Jan-June) and Summer (June-Aug) program seasons.
RiverQuest is a non-profit education organization that provides river-based learning aboard Explorer, a floating laboratory vessel, for students, teachers and the community. RiverQuest programs are inquiry based, engaging students of all ages in hands-on learning activities.
Primary Responsibilities
Interns may be assigned one or more of the following projects:
Presentation of education and public programs, i.e. Environmental Science School Program, RiverTales, Adventure Voyages and/or Education Charters.
Preparation and cleanup of vessel.
Entering daily lab results into database.
Summer Camp teaching crew (summer interns only).
Staffing of off-site educational events and festivals
Office Responsibilities
Interns may be assigned one or more of the following projects:
Support work for programs including inventory, computer work,
data analysis, program promotions, evaluation, etc.
Desktop publishing
Customer support.
Qualifications and Requirements
Pursuing degree in science or education with an interest in science education.
Regular availability at least 1.5 weekdays, between 8:00 AM and 5:00 PM. Occasional evening and weekend hours may also be available.
Interns will be expected to attend all education staff training sessions and meetings.
Willing to work in an outdoor setting on a boat.
Enjoy working with children and the public.
Act 34/151 clearances will be requested upon acceptance into the program.
FBI Clearance may also be required.
Stipends and Application Instructions
A limited number of internships with $500 stipends will be awarded to the most qualified individuals. Interested students can send a cover letter and resume to the address below.
Application Deadlines:

Fall 2013 Internship — September 1, 2013
Spring 2014 Internship — March 1, 2014
Summer 2014 Internship — June 1, 2014
For more information call 412-231-2712
Send Cover Letter and resume to:
Education Manager
RiverQuest
1501 Reedsdale Street, Suite 2001
Pittsburgh, PA 15233