Environmental Science on the Three Rivers
COURSE SHORTS
Grades: 4-12
Season: March-June and
September-November
VOYAGE INCLUDES:
full day field trip plus these FREE extras worth over $1000.
3 week use of an Environmental Science Captain's Chest

Classroom lesson plans for pre and post-voyage use

1-day workshop, 1 teacher for

every 30 students
Students morph into scientists as they travel Pittsburgh's famous three river analyzing living and nonliving indicators of water quality. Results are correlated with industrial history, historical and current land use, and serve as a springboard for exploring issues of sustainability and green designs. Students work together to:
Identify point and nonpoint pollution sources

Collect and classify live plankton and macroinvertebrates

Test water for chemical and physical indicators of pollution

Correlate form to function in identifying fish and birds

Explore concepts of sustainability and green design

Discover how they fit into the river ecosystem - no matter where

they live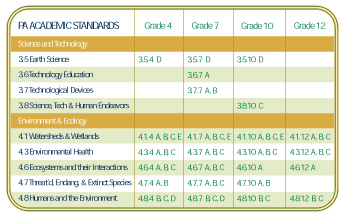 * Minimums may apply. Actual cost of $100/student is subsidized through the generous support of foundations, corporations and the Pennsylvania Department of Education.
What People Say about RiverQuest
"I like the emphasis on integrating the RiverQuest experience into the rest of the classwork." — High School Teacher
"I learned how to take pH, temperature, and other tests first hand and did them myself and used them myself instead of someone else telling me 'how to.'" — Student
"I had a chance to analyze something real for a larger purpose than simply illustrating an idea taught in class... While I certainly knew that chemistry and biology could go together, it never really dawned on me that examining bugs in the river water might tell just as much about the viability of the water as analyzing phosphate concentration. It brought things together for me, and now I find myself wondering at connections between chemistry and physics." — Student
"I love this program! I think it is one of the best things going in environmental science in this area." — Middle School Teacher
"On board we were treated like real scientists with real responsibilities." — Student
"RiverQuest ... gives you a preview of what becoming a scientist would be like."
— Student