Dear Friends, Neighbors, and Partners in Education,
The RiverQuest Board of Directors has announced that the nonprofit is actively seeking to form a strategic partnership or merger with another agency to preserve its river-based education program.
Please check back for updates about future program availability. Thanks!
RiverQuest Charters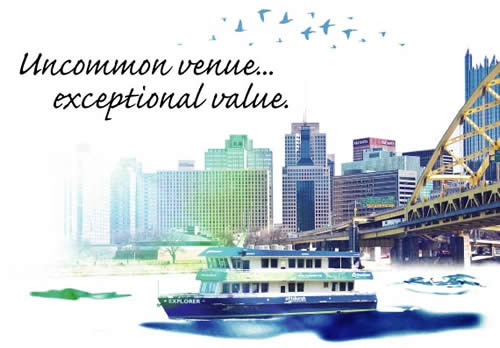 A scenic river cruise offers an impressive way to entertain clients and out-of-town visitors, enliven family gatherings and energize corporate outings. View beautiful sights from the air-conditioned comfort of interior cabins, or from the covered observation deck.
We'll help you to plan and host an exciting onboard event that fits your style and suits your budget.
With a capacity of up to 100 guests, RiverQuest's award-winning vessel Explorer is the perfect setting for your next business or social event. Best of all, proceeds from your charter will benefit the RiverQuest education programs that have served Pittsburgh-region students since 1995.
SPECIAL FEATURES
Explorer's public address system includes a wireless microphone and CD player. An iPod dock is also available.
RiverQuest can include an educational component to your charter. A RiverQuest educator provides a welcome and introduction to your charter. This feature can be expanded to include multiple hands-on environmental science stations for an additional fee. Add freshwater ecology, bridge and island history, current environmental science, or take a lock and dam excursion.
OTHER DETAILS
Please call for information regarding the high-quality local caterers who are familiar with serving events on board RiverQuest Explorer.
BOARDING
The best place to board Explorer is at the RiverQuest dock. Alternate boarding locations will require passengers to climb a short set of stairs in order to board. Charter boarding may be available (if approved and arranged in advance) at
David L. Lawrence Convention Center dock
Landing at Station Square
North Shore at the Great Lawn