Last Call! Family Saturday Sails, October 25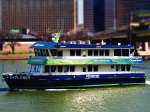 Add a RiverQuest sail to your Saturday plan! 1-hour sails feature hands-on activities that give a whole new view of our living rivers. Special activities for early learners make this an opportunity for the whole family to enjoy.
Proud to be from Pittsburgh!
Peggy Finnegan of WPXI-TV recently featured RiverQuest on the "Proud to be from Pittsburgh!" segment she produces. Tune in to WPXI Channel 11 on Friday evening 10/24 or Saturday morning 10/25 to see the spot, or online at www.wpxi.com/s/pittsburghproud.
RiverQuest, Rivers of Steel exploring partnership
Jim Roddey, President of RiverQuest, and August Carlino, President and CEO of Rivers of Steel Heritage Corporation, announced recently that their respective agencies have entered into formal discussions regarding a potential strategic partnership.

With the rivers as a key geographic and historical context for discovery, both organizations engage the public to celebrate the region and to explore how it has evolved over time from economic, cultural, and environmental standpoints. The partnership exploration is ongoing at this time.
Click here to read the entire press release and other related media.