RiverQuest's Bayer Camp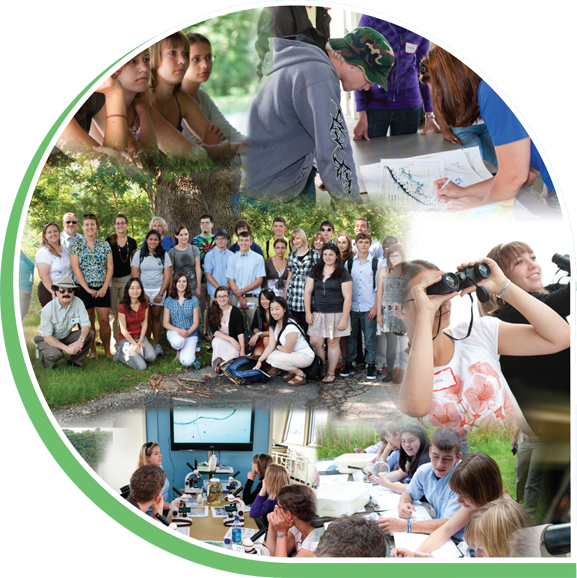 Our world-class two-week international residential camp is sponsored by Bayer USA Foundation and Bayer Science & Education Foundation.
This innovative camp has been designed for a select group of international teenagers who will join together for two weeks of environmental exploration, adventure and fun while learning about water, energy and life sciences through the lenses of Western Pennsylvania river ecosystems. More camp details may be found below in the Program Overview. Students seeking consideration for selection should reside in one of Bayer's major site communities: Northern New Jersey; Pittsburgh, Pa.; Raleigh-Durham, N.C.; Berkeley, Calif.; or New Martinsville, W.V.

Program Overview
RiverQuest's Bayer Camp is a two-week residential summer camp in Western Pennsylvania, USA, that provides hands-on group learning with a focus on life sciences through rural and urban river experiences that are fun, academically challenging and physically engaging.
Students become scientists and researchers throughout the week!
• Human Impacts on Freshwater Ecosystems • Freshwater trophic webs
• Urban Watershed Dynamics • Duquesne University Center for Environmental
Research & Education ecology field study • Bayer's EcoCommercial Building
• Frank Lloyd Wright's Fallingwater • Rivers of Steel tours and industrial
evolution of Pittsburgh • and, of course, some time dedicated to fun and
recreation.
Camp Activities:
• Hands-on field explorations related to water, energy and freshwater ecology
• Site visits to university and industrial experts in environment and life sciences
• Unique outdoor locations and recreational opportunities throughout
beautiful Southwestern Pennsylvania

Participants:
Participating students are 14 to 16 years of age at the time of camp attendance (high school grades 10-11).
Students seeking consideration for selection should reside in one of Bayer's major site communities: Northern New Jersey; Pittsburgh, PA.; Raleigh-Durham, NC.; Berkeley, CA; or New Martinsville, WV.
Dates:
RiverQuest's Bayer Camp dates are to be announced.

RiverQuest Staffing:
RiverQuest dedicates four professional staff members to live and work with students for the entire camp. Staff will meet students at Pittsburgh International Airport and local students at a location to be designated. Staff provide a unified, integrated experience for their entire stay by debriefing activities, managing group dynamics and linking experiences to core themes of sustainability and climate change.
Lodging and Meals:
Housing, breakfast and dinner will be at Robert Morris University in Moon Township and lunch most often on site at RiverQuest or other area locations near to field trip sites. All meals, lodging and ground transportation for camp activities are provided. Participating students are encouraged to bring some spending money if possible for snacks, souvenirs and shopping.